Competing Perceptions:
Design Conflict Resolution Toolkit 1.0
Columbia GSAPP // Technology: Interactive table projection // Course: Metatool // critic: Dan Tae Young
All too often technology is used to augment the human subject to gain a competitive advantage over one another. Could we use technology to overcome these hierarchies and allow people to understand others perspective? Can we think of technology as a tool that can help put us in each other's shoes, or even eliminate polarizing binaries in the design process?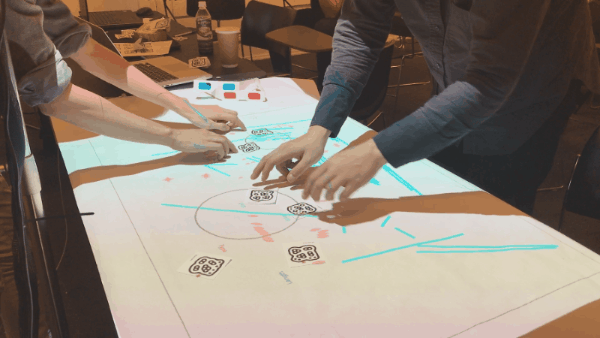 Competing Perceptions is an attempt to use technology to help facilitate better communication between people who have different interest and a different point of view on the same issue. Technology can help us facilitate more meaningful conversation between different parties by allowing them to understand the ramification of their own action. For example, the person placing the furniture might be in conflict with the person drawing the wall, but they will only notice it and act upon it when they can see how their own actions affect the other stakeholders.
Concept
Left: Wearing a Red glass hides the Furniture and shows only the Wall.
Right: Wearing a Blue glass hides the Wall and shows only the Furniture.
Left: Placing the Wall deletes the furniture.
Right: Placing the Furniture deletes the Wall.